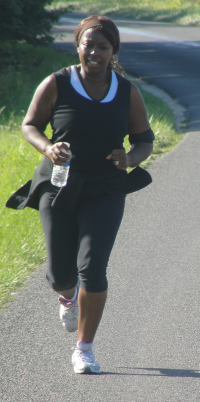 Mariama Nish aged 42,
I work in the City for a training/counseling organisation and live in Walthamstow, East London. I am married to Brian and mother to Nyah 9yrs and Jaimin 5yrs.
I first heard about Harvey after attending a community event in Enfield, his mother, Carol spoke with passion about all they had gone through after Harvey had caught Meningitis Meninigococal Septicemia at the age of only 15 months. The end result for Harvey was amputation of both his legs above the knees and three and a half of his right fingers. Today he is nearly five years old and starts school this week.

After years of doing one 5k race each year, at the beginning of January this year, after being diagnosed with high blood pressure and realising I really had to shift those pounds (well stones to be honest!) I upped my game and decided on tackling those longer distances.....first the 10k races and now I attempt the largest half marathon in the world....the GREAT NORTH RUN. With great emotion because this is a grueling long run, I want to to this run and ask people to sponsor me in aid of helping Harvey by way of a donation to The Harvey Parry Appeal Fund.

He is such a giggly little boy he runs, walks, skips and jumps on prosthetic legs at a cost of £30,000.00 a pair, throughout his life, to enjoy maximum mobility and independence, Harvey needs the best limbs available and the best equipment available (right now a new electronic wheelchair is next on the agenda), as he starts his first day of school this week,

The family have been busy trying to raise the cash as harvey will be entering a much bigger daily environmental space to have to get around and get more tired. Please help make a donation and sponsor me, tell your friends, family and colleagues too and on the day watch BBC coverage of the event which myself and Harvey will feature and see me run the Great North Run for Harvey thanks to all .

Your sponsorship will appear below as a donation received.
On Sunday 19 September....hopefully with not too much heat and not too much rain, I will be running the 13.1 miles, through the city of Newcastle.
I have no great time in mind, just need to cross the finishing line.

Make cheques payable to Harvey Parry Appeal Fund, please write Mariama Nish on reverse of check.

Harvey Parry Appeal Fund
3 Lilac Avenue
Enfield
EN1 4QY.
Tel: 0208 482 1603 / 01992 851074

Or if paying by payapal please enter Mariama Nish - Bupa 30th Great North Run in purpose box.